November & December Tours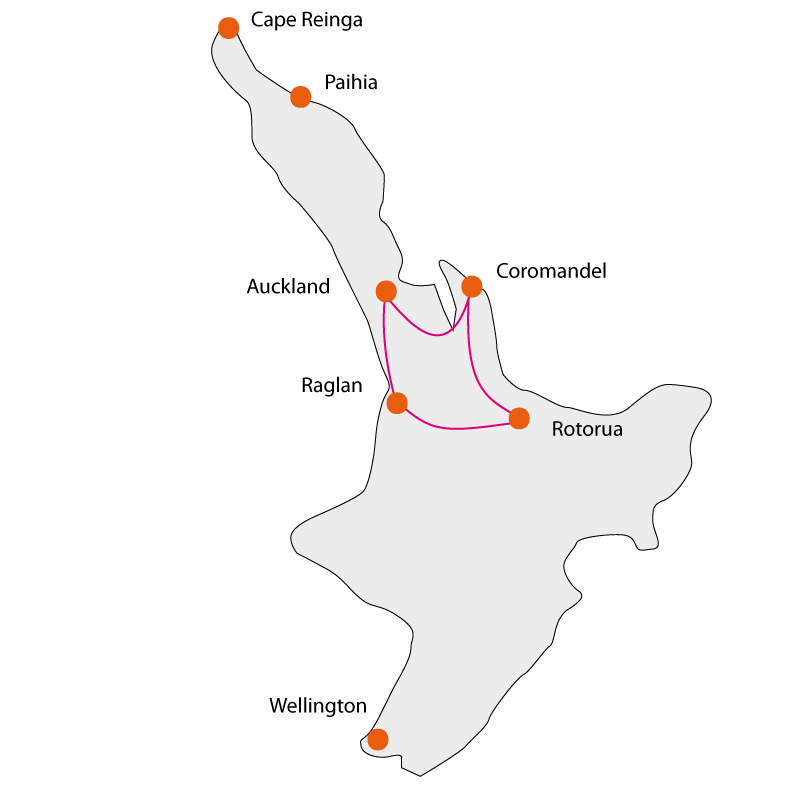 Beaches & Surfing Tour
28 November - 04 December 2019
Tour starts in Auckland - Tour ends in Auckland
Absolute fun, cities, sun, surfing, Maori culture, hot pools and awesome beaches. This summer tour offers the best of what the top and central North Island has to offer. It gives tour participants the opportunity to see most of the major attractions and experience a wide range of inclusive and optional extra activities.
*including discounts
Regular Price NZ$1,359
Plus Food Kitty $140
Itinerary and Extra Activities
Itinerary
DAY 1: Auckland
Kia Ora! Good to have you aboard the Beaches & Surfing Tour! Today you can experience many attractions and adventure activities on offer. Those who do not book any of the additional activities will go on a tour of the city and explore the famous Auckland waterfront. In the evening our guide will take you for a visit up the Skytower, a truly breathtaking experience with awesome views over Auckland at night.
Extra Activities:
Skytower Jump, Skytower Jump & Walk Combo, America's Cup Sailing Experience, Auckland Bridge Climb, Auckland Bridge Bungy, Auckland Bridge Combo, Kelly Tarlton's Sea Life Aquarium
DAY 2: Auckland - Whitianga
Today we head north to the Coromandel Peninsula. The area called Coromandel is one of quite stunning beaches and bays and very popular as a holiday spot for New Zealanders. It is home of Hot Water Beach, so named because of the hot springs which surface on the sand for two hours either side of low tide. If the tides allow we will take a spade and dig our own hot pool.
DAY 3: Whitianga
Today we enjoy a full day in Coromandel. This region is also known for its very good surf beaches – you can improve your surf skills and join another surf lesson. Or would you like to go kayaking? There is something to enjoy for everyone!
Extra Activities:
Cathedral Cove Sea Kayaking, Half Day Surfing
DAY 4: Whitianga - Rotorua
Today we drive to Rotorua. If you are a fan of Lord of the Rings, you may like to use the day to discover "Hobbiton", the film set where parts of the movies where made.
In the evening you will have the opportunity to find out more about New Zealand's indigenous people, the Maori, when we visit a traditional Pa (Maori village). You will hear about their history and learn about their culture. Traditions such as the Powhiri (formal welcome), the Haka (war dance) and a delicious Hangi (traditionally earthcooked Maori feast) will turn this evening into an unforgettable experience.
Extra Activities:
Hobbiton Movie Set & Farm Tour
DAY 5: Rotorua
After breakfast we will head south to Taupo for a daytrip, but at first we visit Wai-O-Tapu Valley, where you can watch mud pools and the famous Lady Knox Geyser. In Taupo you have the opportunity to join an extra and exciting activity, e.g. like a jetboat ride or a tandem skydive. We will stop to see the famous Huka Falls.
Extra Activities:
White Water River Rafting, Huka Falls Jetboat, Taupo Skydiving 12,000ft, 15,000ft, Maori Rock Carvings Cruise
DAY 6: Rotorua - Raglan
Today our journey leads us to the coastal town, Raglan. This place is known New Zealand-wide for its many surf beaches and awesome waves and it attracts a lot of surfers from all over the world. The conditions are perfect for beginners and for more experienced alike. In the afternoon we will join a surf lesson as a group activity, we will learn some "basics" and try to catch some waves. The surf equipment (wet suit and surf board) will be provided. In the evening we have a "Surfer's Dinner" together.
DAY 7: Raglan - Auckland
If you liked the surf lesson yesterday, you get another great opportunity this morning to join a guided surf hiring and go into the water once again. Alternatively you can use the morning to go for a swim or walk around Raglan. After an exciting seven days we drive back to the airport of Auckland, where you fly back home.
Extra Activities:
Supervised Surfboard Rental Raglan
Deals and Specials
Early Bird Special: Save $50 if you book this tour before 14 October 2018
Bring a Friend Deal: Receive an activity voucher for $50 if you get a friend to book the tour
Experienced Guides/Assistants
Comfortable accommodation at hostels/backpackers
All transport during the tour
All activities during the tour as described in the tour programme
Skytower Experience Auckland
Surf Lesson Raglan
Unique Tamaki Maori Culture evening, incl. Hangi
Visit Taupo and Huka Falls
Visit Hot Water Beach
Tour t-shirt and special group photo
Transport (flights, ferry, transfers) to/from tour start
Extra Activities
Food Kitty for breakfast and dinner (compulsory): NZ$140
Pocket money
15 students minimum required for tour to proceed
Booking conditions apply
All inclusions are weather and time depending