September & October Tours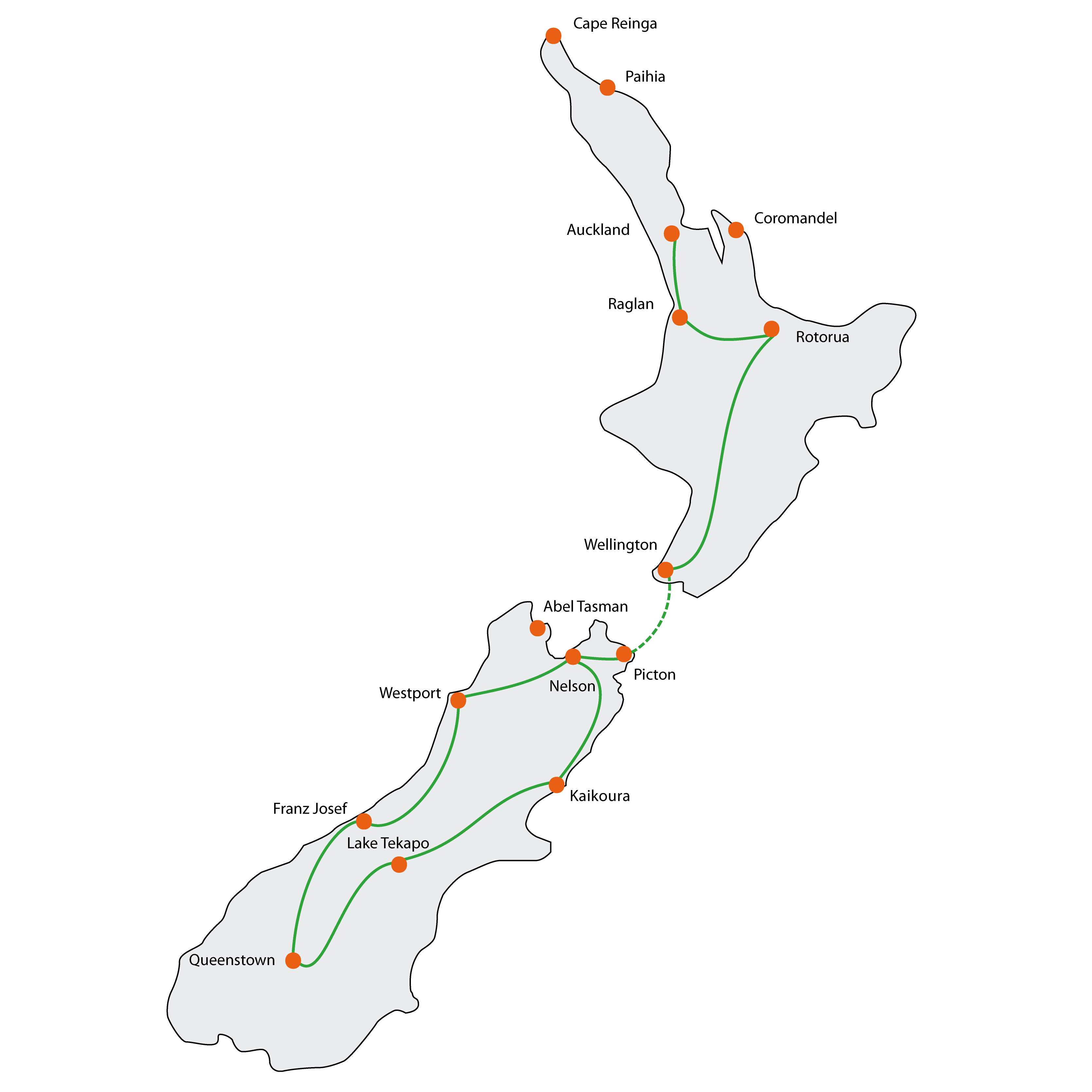 Combo Tour - Explore North & South Island
26 September - 10 October 2020
Tour starts in Auckland - Tour ends in Nelson
On this tour you will explore the absolute best of what the North and South Island have to offer. Additionally, to an exciting group activity, programme participants can book extra activities.
*including discounts Regular Price $2,695 Plus Food Kitty $345
Itinerary and Extra Activities
Itinerary
DAY 1: Auckland
Kia Ora! Good to have you aboard the Beaches & Surfing International Student Tour! Today you can experience many attractions and adventure activities on offer. Those who do not book any of the additional activities will go on a tour of the city and explore the famous Auckland waterfront. In the evening our guide will take you for a visit up the Skytower, a truly breathtaking experience with awesome views over Auckland at night.
Extra Activities:
Skytower Jump, Skytower Jump & Walk Combo, America's Cup Sailing Experience, Auckland Bridge Climb, Auckland Bridge Bungy, Auckland Bridge Combo, Kelly Tarlton's Sea Life Aquarium
DAY 2: Auckland - Raglan
After an exciting first day in Auckland we drive to the coastal town, Raglan. This place is known New Zealand-wide for its many surf beaches and awesome waves and it attracts a lot of surfers from all over the world. The conditions are perfect for beginners and for more experienced alike. In the afternoon we will join a surf lesson as a group activity, we will learn some "basics" and try to catch some waves. The surf equipment (wet suit and surf board) will be provided. In the evening we have a "Surfer's Dinner" together.
DAY 3: Raglan
If you liked the surf lesson yesterday, you get another great opportunity this morning to join a guided surf hiring and go into the water once again. Alternatively, you can use the day to go for a swim or walk around Raglan.
Extra Activities:
Supervised Surfboard Rental
DAY 4: Raglan - Rotorua
Today we drive to Rotorua. If you are a fan of Lord of the Rings, you may like to use the day to discover "Hobbiton", the film set where parts of the movies where made. In the evening you will have the opportunity to find out more about New Zealand's indigenous people, the Maori, when we visit a traditional Pa (Maori village). You will hear about their history and learn about their culture. Traditions such as the Powhiri (formal welcome), the Haka (war dance) and a delicious Hangi (traditionally earthcooked Maori feast) will turn this evening into an unforgettable experience.
Extra Activities:
Hobbiton Movie Set & Farm Tour
DAY 5: Rotorua
We will spend the whole day in Rotorua, known as the thermal wonderland of New Zealand. Its hot springs and geysers have attracted people for over a hundred years. Rotorua sits on the shores of Lake Rotorua and is built over a geothermal hot spot. There are numerous natural vents, hot pools and other geothermal features in and around the city. But Rotorua is also known as the adventure capital of the North Island: White Water Rafting, Skydiving, ZORBING,… Rotorua offers something for every taste. If you a fan of Lord of the Rings, use the day to discover "Hobbiton", the film set where parts of the movies where made.
Extra Activities:
White Water River Rafting, Wai-O-Tapu Valley, Hobbiton Movie Set & Farm Tour, Skydive Taupo
DAY 6: Rotorua - Wellington
We leave Rotorua to head south to visit Lake Taupo, New Zealand's largest lake. We will stop to see the famous Huka Falls before the journey continues to Wellington. On our way, we might even be able to catch a glimpse of some of the volcanoes located in the central North Island. The Tongariro volcano still smokes, the ancestral fires still burn and the land lives on for all. Tongariro, Ngauruhoe and Ruapehu have all erupted in recent times. Having arrived in the "Coolest little capital in the world" – rated as such by Lonely Planet Travel Guides – you have time to explore the city. Visit some of Wellington's shops – after all, the town is very popular among Kiwis for its shopping – or take a stroll along the harbour and stop in one of Wellington's many excellent cafes.
DAY 7: Wellington - Picton - Nelson
In the morning, we will explore Te Papa, New Zealand's fantastic National Museum and then will have some free time to go souvenir shopping. In the afternoon we will take the ferry from Wellington to Picton. While sailing through Cook Strait you can enjoy stunning views of the Marlborough Sounds.
DAY 8: Nelson - Westport
This morning we leave the sunny city of Nelson and make our way to Westport, the city that is also known as the gateway to the west coast. Passing by Nelson Lakes National Park and the Kahurangi National Park, the landscape will soon change to hilly scenery. The road winds up the mountains in tight curves. We follow the Buller River to Westport, where you will have the chance to try surfing or paddle boarding or just relax on the beach in the afternoon.
Extra Activities:
Surf lesson, Stand Up Paddle Boarding
DAY 9: Westport - Franz Josef
We leave Westport and make our way south through Greymouth and Hokitika along the wild west coast. We stop for a quick walk on Truman Track into the Paparoa National Park and stop in Punakaiki to visit the famous Pancake Rocks which really live up to their name. Our destination for today is one of the world's most accessible glaciers, the Franz Josef Glacier. Franz Josef Glacier was named after the Austrian Emperor Franz Josef and is one of only three glaciers world wide that borders a rain forest. In the evening you get the chance to relax and soak in the Franz Josef Hot Pools.
DAY 10: Franz Josef - Queenstown
It's up to you how you want to spend the morning. You can choose one of the extra activities recommended and explore the Franz Josef Glacier, relax in the hostel or visit the West Coast Wildlife centre and spot some kiwis. We leave Franz Josef in the late morning and continue our journey to Queenstown. Heading along the wild West Coast we reach soon the beautiful Lake Matheson, icon of the West Coast with its enchanting reflections of Mount Cook and Mount Tasman. If the weather's nice, we stop there and go for a walk around the lake. Going through Haast Pass we will stop in Wanaka for lunch. Before reaching Queenstown we also stop in Arrowtown, a Wild-West like village where scenes of the movie Lord of the Rings were filmed.
Extra Activities:
Glacier Helicopter Flight
DAY 11: Queenstown
Jump off a bridge, swing over a canyon, paddle your way through a raging river – there's nothing you can't do (as long as you have permission from your parents of course). For the more faint-hearted there are stunning cruises to Milford or Doubtful Sound that are sure to inspire. Those of you that do not book any of the extra adventure activities have a chance to explore Queenstown. We will go for walk into town, do some sightseeing and shopping, and we take a walk along famous Lake Wakatipu. Tonight is free time for everyone, take a stroll into town or spend time to look at the fantastic photos everyone has made and update your Facebook pages.
Extra Activities:
Kawarau Bungy (43m), Nevis Highwire Bungy (134m), The Ledge Bungy, The Ledge Swing, The Ledge Bungy and Swing Combo, Milford Sound Fly/Nature Cruise/Fly, Milford Sound Coach/Nature Cruise/Coach, Doubtful Sound Coach/Cruise/Coach, Skydiving 9,000ft, 12,000ft, 15,000ft
DAY 12: Queenstown
Another free day to continue your adrenalin rush. For those of you who do not book any extra activities today there is lots to do and see in Queenstown. Go and check out the world famous Fergburger for lunch or enjoy a coffee on the shore of Lake Wakatipu. Tonight has a special treat in store for everyone. After dinner we head along to the 'Minus 5 Ice Bar' for a non-alcoholic cocktail. The bar is made completely of ice, even your cocktail glasses. But you do not have to freeze, you will be given warm clothes and gloves, so you can enjoy your experience in comfort and marvel at the great ice sculptures at the bar.
Extra Activities:
Canyon Swing, Horseriding, Dart River Wilderness Safari, Shotover Jet, White Water Rafting
DAY 13: Queenstown - Lake Tekapo
In the morning we drive you to our destination for today: the picturesque turquoise coloured Lake Tekapo. Dazzling by night, Lake Tekapo is the perfect spot for stargazing. Don't forget to take a picture with the famous Church of the Good Shepherd in the background. The stunning lake is understandably a popular theme for postcards.
Extra Activities:
Stargazing at Cowan's Observatory
DAY 14: Lake Tekapo - Kaikoura
We leave Lake Tekapo in the morning and continue our journey back up north. We stop in Christchurch for lunch break and you have the opportunity to do some shopping in New Zealand's third largest city. The second part of our trip today takes you to New Zealand`s whale-watching capital Kaikoura. The Maori name Kaikoura translates to "meal of crayfish" (Kai – food, koura – crayfish) so make sure you try some while exploring the town. Tonight, we spend the evening at the hostel; take a swim in the hostel swimming pool or enjoy a sauna.
DAY 15: Kaikoura - Nelson - Home
In the morning you can fulfil your dream of swimming with the dolphins. Or if you prefer whales It's your chance to watch them up close . Adventurous water lovers- enjoy a thrilling trip to find out more about the with the world´s largest toothed whales. If you have not booked any extra activities, then you can enjoy a sunny morning at the beach and explore the small city centre while going shopping. We leave Kaikoura after lunch all together and begin our return journey home. We will have to say goodbye in Nelson, but we`re sure you´ll never forget this experience – so keep in touch.
Extra Activities:
Whale Watching, Dolphin Swimming/Watching
Deals and Specials
Early Bird Special: Save $50 if you book this tour before 15 August 2020
Bring a Friend Deal: Receive an activity voucher for $50 if you get a friend to book the tour
Experienced Guides/Assistants
Comfortable accommodation at hostels/backpackers
All transport during the tours
Surf lesson Raglan
Tamaki Maori Village incl. Hangi Dinner
Visit Kawarau Bungy Bridge
Entry & 1 alcohol-free cocktail at Minus5 Ice Bar
Kiwi Haka performance and dinner in Queenstown
Excursions in Queenstown
Tour t-shirt and group photo
Lots of fun game evenings and group activities
Please come back soon for more information on all the extra activities we offer on tour.
Transport (flights, ferry, transfers) to/from tour start
Extra Activities
Food – a contribution of $250 towards a food kitty is mandatory (breakfast and dinner)
Pocket money
Minimum 15 students
Booking conditions apply
All inclusions are weather and time depending.